NextGen Institute Of Construction Engineering Private Ltd was formed to create a pool of resources for construction engineering by providing adequate industrial exposure to the Engineers through our varied job specific training programs. It gives immense pleasure to introduce ourselves as one of the Authorized training center for Trimble Tekla and Tekla. We are offering training programs for all major industries like, Oil & Gas, Power Plant, Air frame structure Plants and Industries.,
NGICE PVT LTD is Bangalore based training and placement Centre. We provide trainings on softwares Tekla And Design (Offshore Analysis and Design Software), Trimble Tekla (3D design software for accurate and clash-free plant design) and Tekla Designer (Advanced Structural Detailing Software for the Plant and Construction Industries)
Our training programs combines sound engineering principles, methods, applicable codes & standards along with best industrial practices. Further, we focus on providing the training along with case studies, practical examples and workshops to maximize the benefits of new age technology along with conventional learning methods to our candidates.
We continuously strive for enhancing the technical skills of the candidates by providing state-of- art- technologies for desirable career opportunities. We also imbibe & inculcate the standards required to establish our candidates according to industrial structure & functions so that they can firmly lay down their footprints with sound technical knowledge & skills.
WHO SHOULD ATTEND?
Tekla Structures
Tekla works with all materials and the most complex structures – you set the limits. Our customers have used Tekla Structures to model stadiums, offshore structures, plants and factories, residential buildings, bridges and skyscrapers. This course is suitable for offshore structural, architectural, mechanical and civil engineers And designers. The course will also benefit Naval architects and Technologists.
Tekla Model Sharing
This course is suitable for offshore, onshore, chemical, power plant, structural, piping, mechanical and civil engineersand designers. The course will also benefit Naval architects and Technologists.
Tekla Structural Designer
Professionals in the constructionIndustry so that they can upgrade themselves from 2D /Manual drawing to 3D / 4D, any person from outside the Industry with a good aptitude, attitude & willing to work hard.
Placement Assistance
NGICE PVT LTD is committed to provide the placement assistance to our candidates through NGICE Placement Cell. Our end to end business model along with our sister concern companies enable us to recruit trainees for our in-house project requirements as well. Our unique approach enables us to provide Engineering/Placement services to companies/candidates across the world. Further, NGICE top ranked candidates will be having first preference.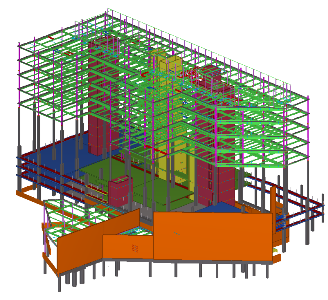 About Tekla Software
Tekla Structures is used in the construction industry for steel and concrete detailing, precast and cast in-situ. The software enables users to create and manage 3D structural models in concrete or steel, and guides them through the process from concept to fabrication. The process of shop drawing creation is automated. It is available in different configurations and localized environments. Tekla Structures is known to support large models with multiple simultaneous users, but is regarded as relatively expensive, complex to learn and fully utilize. It competes in the BIM market with AutoCAD, Autodesk Revit, DProfiler and Digital Project, Lucas Bridge, PERICad and others. Tekla Structures is Industry Foundation Classes (IFC) compliant, among about 40 other competitive systems.
Modeling scopes within Tekla Structures includes Structural Steel, Cast-in-Place (CIP), Concrete, Reinforcing Bar, Miscellaneous Steel and Light Gauge Drywall Framing. The transition of Xsteel to Tekla Structures in 2004 added significant more functionality and interoperability. It is often used in conjunction with Autodesk Revit, where structural framing is designed in Tekla and exported to Revit using the DWG/DXF formats. Engineers have used Tekla Structures to model stadiums, offshore structures, plants, factories, residential buildings, bridges and skyscrapers. Tekla Structures is used in the construction design for various projects around the world.
TEKLA STRUCTURES BIM SOFTWARE
We constantly test and develop Tekla Structures and help you to get started with it. Models created with Tekla BIM software carry the accurate, reliable and detailed information needed for successful Building Information Modeling and construction execution. Welcome smoother workflow to your company with Tekla Structures and constructable models. Tekla works with all materials and the most complex structures – you set the limits. Our customers have used Tekla Structures to model stadiums, offshore structures, plants and factories, residential buildings, bridges and skyscrapers.
Help with implementation
Tekla staff and our resellers help with implementation of the software. We come close to our customers and offer local support and trainings.
Open approach to building information modeling
Tekla is ready to use, but you can optimize it if you want. As Tekla has an open approach to BIM, you can run other providers' solutions and fabrication machinery and still interface with Tekla. Extending and enhancing Tekla Structures is easy with Tekla Open API, the application interface.
One software solution, different configurations and environments
Tekla Structures is one software solution that has different configurations to match different needs of our customers. Tekla Structures has 30 localized environments and 14 user interface languages to make using and implementing the software easier around the world.
Key benefits • Collaborate and integrate thanks to open BIM approach.
• Model all materials.
• Handle even the largest, most complex structures.
• Create accurate, constructable models.
• Let information flow from design and detailing to construction site.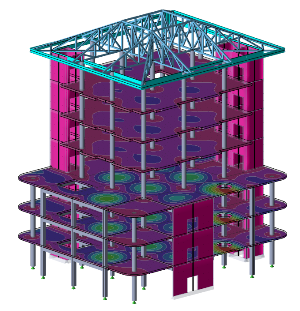 About Tekla Design Software
Analyze and design buildings efficiently
Tekla Structural Designer is revolutionary software that gives engineers the power to analyze and design buildings efficiently and profitably. Fully automated and packed with many unique features for optimized concrete and steel design, Tekla Structural Designer helps engineering businesses to win more work and maximize profits. From the quick comparison of alternative design schemes through to cost-effective change management and seamless BIM collaboration, Tekla Structural Designer can transform your business.
www.tekla.com/in/products/tekla-structural-designer
About TEKLA BIMSIGHT
With more than 30 years of service experience, bocad-3D Steel is the most advanced 3D CAD software worldwide for offshore construction. It has been adapted to the requirements of a market that demands balance between the conservatism of steel structure companies and the pioneering ideas of modern architects, enabling you to model the most complex offshore structures quickly and accurately at a lower cost.

bocad-3D has thus become a worldwide reference for modelling some of the most sophisticated and prestigious structures. Throughout the years, bocad has diversified its products with various modules: glazing, cladding, staircase and railing, tower, offshore, tank, wood and concrete.

Tekla Designer Steel provides class-leading productivity in structural steelwork, enabling consistently rapid, high-quality design, fabrication and construction, for on-time, on-budget delivery of a high-quality project. With an unrivalled track record on the most advanced structural design projects, Tekla Designer Steel can deliver value as a stand-alone steelwork solution or as part of an integrated AVEVA Plant deployment.

Oil and gas industry CAD software
The offshore module was designed for professionals of the oil and gas industry eager to quickly obtain documents for purchasing, manufacturing and assembly in order to optimise their production.

CAD software for offshore platforms, decks, jackets, flare booms and helidecks

By using our CAD software, you will save time when modelling and manufacturing drilling and production platforms, decks, jackets, main support frames, modules, flare booms, boat landings, helidecks and piping supports. This module is used by many fabricators and engineering consultants all over the world.

3D modelling software for steel structures
Bocad is a 3D modelling software for steel structures that incorporates many functions that have helped make it a success for decades (including management of the most complex 3D structures, member marking with revision tracking, and automatic creation of drawings and lists).

It also provides the most powerful tools in the industry in order to allow the user to deal with the most challenging structures. These tools include a complete and open connection library; multi-user options; three-dimensional curved plate creation; and Sacs, Staad pro, IFC, Frameworks, PDMS, STEP AP214, IGES, DXF/DWG 2D and 3D, PDF, PDF3D and WRL interfaces.

Offshore CAD software module
Features of our specialised offshore CAD software module include:

Pipe positioning, seam orientation, CHS profile or bent-rolled plates, imperial and metric units, pipe unfolding, coordinates, lists, CNC, internal and external rings, cones, built-up sections, pad eyes, flange extensions, stiffeners, lap joints, handrails, gratings and pipe flanges

Centre-of-gravity calculations

Weld preparation, weld numbering, weld reports and weld maps

A full range of connections, members and 2D graphical elements that enable you to meet the industry output requirements

Each element created by the offshore macros can be modified interactively

If you modify a section involved in the assembly, the connection can be recalculated automatically

Possibility to load a 3D model from analysis software into bocad-3D and to export a bocad-3D model to piping or design software

CNC codes to control pipe-cutting machines (from Mueller and Jesco) as well as tools for stock management and production control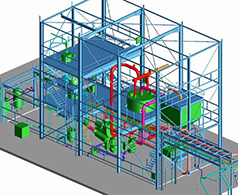 About Tekla Model Sharing
STAAD.Pro is the structural engineering professional's choice for steel, concrete, timber, aluminum, and cold-formed steel design of virtually any structure including culverts, petrochemical plants, tunnels, bridges, piles, and much more through its flexible modeling environment, advanced features, and fluent data collaboration. STAAD.Pro allows structural engineers to analyze and design virtually any type of structure through its flexible modeling environment, advanced features and fluent data collaboration.

Flexible modeling is provided by a state-of-the-art graphical environment and the design supports over 70 international codes and over 20 U.S. codes in 7 languages.

An array of advanced structural analysis and design features are included such as nuclear certification for 10CFR Part 50, 10CFR 21, ASME NQA-1-2000, time history and push over analysis and cable (linear and non-linear) analysis.

Efficiencies are gained through the ability to maintain and streamline current workflows with fluent data collaboration. STAAD.Pro integrates with other Bentley products such as STAAD.foundation and ProSteel and OpenSTAAD is provided for integration with third party programs.